One of the primary challenges in the shift to working from home has been re-learning how to take care of ourselves throughout a workday. The key to prioritizing your wellness during a busy, stressful day is the strength of your "Workday Mindset" - your ability to be intentional about the way you think, act, and respond to situations at work.

In this workshop-style presentation, we'll offer simple concepts that will help you use your Workday Mindset to feel more energized at work, and show you how to build an actionable plan to take care of yourself throughout your workday.

At the end of this workshop, attendees will be able to:

1. Identify common barriers that are preventing you from taking care of yourself;
2. Use simple, actionable concepts to strengthen and develop your workday mindset;
3. Walk away with a personalized plan for how to incorporate simple wellness principles into your workday.
Produced on August 12, 2020.
Hosted By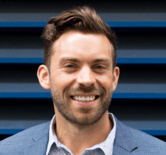 Drew Amoroso
Have questions? Lawline is here to help.
Call 1-877-518-0660 or email us at support@lawline.com.