Attorneys, like everyone else in the US right now, are in a crisis situation due to the current pandemic. Between adjusting to working remotely, balancing childcare and clients, and managing anxiety about your health and that of your loved ones, it can feel like there's no time to take care of yourself. But in fact, at this moment it is essential that you identify manageable techniques to keep you healthy so you can continue to support your family, community, and law practice.

This webinar is conducted by Will Meyerhofer, a former Biglaw attorney and practicing LCSW who primarily works with attorneys facing mental health crises. The program will address the specific issues many attorneys are facing right now, and provide practical tips attorneys can use to protect their mental health and wellness during unprecedented times.

Learning Objectives:
1. Identify the specific challenges facing attorneys during the pandemic
2. Discuss mental health management broadly as it applies to the practice of law
3. Practice some specific exercises for managing anxiety and depression related to Coronavirus
Produced on April 3, 2020.
Hosted By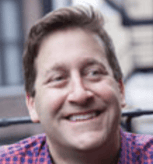 Will Meyerhofer
Have questions? Lawline is here to help.
Call 1-877-518-0660 or email us at support@lawline.com.